For the past two decades, Adobe Flash has been one of the leading platforms for the development of eLearning software. During that time, it was a one-stop shop where skilled animators, web designers, and programmers alike could create visually-stunning, dynamic content that helped drive learner retention and ROI.
If you're reading this, you have more than likely heard the cries proclaiming that "Flash is dead" for years now, but the popular platform has managed to stick it out so far. The situation evokes memories of the "bring out your dead" scene from Monty Python and the Holy Grail.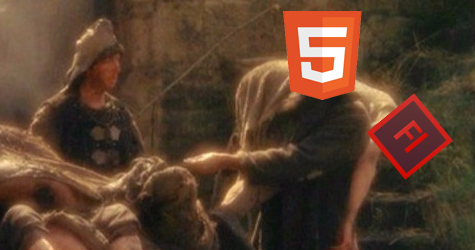 So, is Flash really dead?
Technically, no. But Adobe announced that they will be ending support for Flash in 2020. Since then, many browsers have taken a stance to make Flash obsolete even sooner by disabling Flash by default and making it more difficult to install.

How does this affect me?
For one thing, it could cause more technical issues as browsers evolve over time. If end-users can't access their training because of problems with Flash, they could become frustrated and avoid completing their training, even falling out of compliance.
For another thing, not having a plan for the end of Flash poses security risks. Once it's no longer supported, if you're still running Flash content and a hacker finds and exploits a vulnerability, you could be looking at a potential data breach. Because Adobe won't be releasing new versions or even security patches, this vulnerability will not be fixed. While this doesn't necessarily mean that your system will be immediately hacked, it could become susceptible to hacks in the future.
Okay, so what do we do about it moving forward?
Flash was the industry standard for years, so it's not surprising that there are so many Flash trainings still in use today. You might even be thinking of modules you currently have in place and wondering how you should be preparing for 2020. While this transition isn't happening overnight, it's important to start thinking about your action steps now.
To get started, you should consider making a list of all your modules that contain any Flash elements. Then, evaluate each of these modules and decide whether to:
Conversions and rebuilds both require more planning than simply retiring the module. Here are a few things you will want to consider if you plan to convert or rebuild:
Choose an HTML5 Authoring Software. As with any job, choosing the right tool can make all the difference. Some popular options include Articulate Storyline, Adobe Captivate, Lectora, and more.
Certain Flash elements – especially the more interactive or animated ones – simply don't have an HTML5 equivalent. You'll want to decide the best course of action for handling these situations.
For conversions, you need to locate and aggregate the original source files and assets.
While all of this may seem daunting, careful planning can help ensure that you are prepared for when the time comes that Flash is no longer supported.
If you want to discuss the impact this may have on your organization or need help deciding on the best course of action, we're here for you.