Foreword by Bryan Robb
In my recent post, The Next Big Thing in Learning is Already Here, I discussed the merits of data driven L&D. So, we thought it would be great to share a success story of one of our partners.
Katie Gallagher, the Director of Education at Robert Crown Center for Health Education, has graciously written this article about her experience developing, delivering and evolving their curriculum "Science Behind Drugs." For those of you with kids, YOU WANT THIS PROGRAM IN YOUR SCHOOLS as they are moving the mark in Heroin and Opioid education.
---
Putting Theory into Practice
When it comes to a large-scale problem it can be hard to know where to begin to try and propose a solution. Even with the best ideas, many of us have no notion of how or, better yet, if those ideas can "get done." But all it takes is one person to start the discussion with "What if…," to turn even a large-scale issue into something with actionable steps.
For instance, someone could posit, "What if we gave everyone a place to live to end homelessness?" This is a great cause, but the "how" we get there can be a little gray. Such a large issue requires a multi-faceted solution and multiple groups coming together and taking action to create a real impact. We were confronted with a similar situation at the Robert Crown Center for Health Education when we were sure we had the best big idea but were not at all sure how to put it into place.
The Business Case
Our large-scale problem was how to tackle the growing heroin and opioid epidemic. So we asked ourselves, "What if we could create an effective and meaningful educational experience around the dangers of heroin / opioid use to Middle School and High School students?"
It needed to be unique and engaging and it had to be presented in a way that was relatable and didn't feel preachy like typical drug education programs. The question was how.
Bringing the Story to Life Through Design
Enter Reflection Software. After an introduction through a mutual acquaintance, we partnered with Reflection to help us solve our business problem. We knew they had extensive experience in the L&D world and more specifically designing programs that captivate students no matter the age range. After a number of brainstorming sessions, the team decided upon a graphic novel-style creative treatment, allowing students to interact with the story itself in order to create the most impact for the audience (think 'choose your own adventure books'). The hope was that students could immerse themselves in the plot line and characters and put the pieces of the story together in order to connect with the main character's experiences.
Fast forward through the collaborative workshops, conference calls, and review cycles, and our theorized vision started coming to life! During the pilot, we heard time and time again that the module truly brought the story to life and showed the real consequences of substance abuse and addiction in a way students could relate to.
Develop engaging program: Check. Now, how do we get this crazy, cool program into the classroom?
Using a Learning Management Platform to Spread Awareness
Next business problem: Find a Learning Management Platform that was robust and flexible enough to be a vital part of our new blended learning approach.
We needed all of the following:
Supplemental materials to be available to teachers for creating lesson plans based on the module.

The ability to track students' progress without capturing their information (since a majority of the audience are minors).

A way to structure a curriculum based on pre- and post-activities delivered via eLearning modules.

Pre- and post-tests delivered in a way that students and staff could track improvement.
Oh, and it had to be easy for the classroom teachers to execute. Sounds like a lot, I know.
This was where Cognition came in, Reflection Software's Learning Management Platform. Reflection was able to develop a process and execute it, creating a system to upload student information easily and more importantly, anonymously. The robust reporting capabilities allowed us to track the success of the program without affecting the privacy of the students. We were able to collect data from pre- and post-tests without knowing the student's name, all while providing the teachers and school staff with the vital information necessary to address areas of need for each individual student.
The Outcome
As our first "jump" into the eLearning world, what did we learn? What were the data points and how did we use them?
Agility. We found that we could use the data to not only capture the students' understanding of a question, but also track understanding levels back to the instructor's delivery of the material. We were able to analyze this data and use it to modify our materials and teaching techniques – leading to improved student retention.
Reach. It goes without saying that collecting raw data is incredibly valuable but showing the impact of our reach was imperative. We educated over 8,200 students the first year.
Effectiveness. The data says it all. There was a 27% increase in understanding of the dangers of heroin and opioid use from the students' pre-tests to their post-tests.
Scalability. The development and success of this program provided the infrastructure to incorporate eLearning into our entire Health Education curriculum.
While the original idea was turned into practical application, it was far bigger! The partnership with Reflection Software really helped pave the way for the Robert Crown Center's curriculum from that point forward. We now leverage Reflection Software's LMS, Cognition, for virtually all of our programming.
---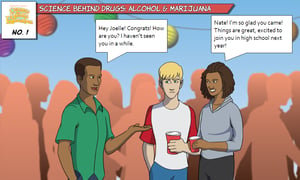 Click here to experience how the Robert Crown Center for Health Education is innovating health education and impacting lives.