Reflection Software Partners with NADA to Win Brandon Hall Group HCM Excellence Awards Gold
A picture may be worth a thousand words, but Reflection Software and the National Automobile Dealers Association (NADA) think a video is worth gold! Reflection Software is proud to announce that their entry "Finding Meaning Behind the Words: How Video Scenarios Brought the DISC Model to Life for Dealerships," submitted in conjunction with NADA, won a gold award in the Best Use of Video category during the 2019 Brandon Hall Group HCM Excellence Awards for Learning and Development.
Setting the Foundation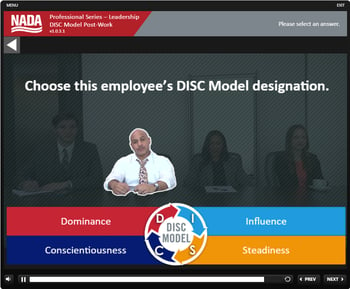 To support NADA with the development of their Professional Series training program, Reflection Software created pre-work and post-work modules to supplement NADA's instructor-led training classes. One of the program's initiatives focused on "Leadership Foundations," which centered on teaching how to effectively utilize the DISC Behavioral Model when interacting with colleagues, customers, and anyone in between!
NADA and Reflection Software worked together to develop the post-work DISC Model video module, which coupled high-quality, real-life video scenarios with interactive decision points throughout to enhance the learning experience via observation and action. The video scenarios created for the module were all designed to be authentic to the dealership setting.
---
---
Building Successful Leaders
The module was designed to place the onus on the learner to critically think about what they've learned concerning the DISC Model, and then put it to practice. Interaction with the video scenarios at critical moments was key in what made the module so successful, because the learner recalls what they learned in class and then puts it to work for several unique dealership scenarios.
Feedback received from those who have taken the DISC Model video module stated they now have a "Better understanding of customer's attitudes/personalities," they "…have less conflicts and [are] able to discuss things differently," and the training even supported a learner in revamping their hiring process: "I have produced a completely new hiring process….I have started to implement reading people's DISC behaviors to help lead my team."
---
The initiatives that were honored are not only innovative but fit the unique needs of the business and create truly remarkable success stories.
-Rachel Cooke, Brandon Hall Group COO
---
An Award Winning Achievement
With a strong partnership comes strong collaboration, and the design and development of this module is an example of what can happen when both parties push themselves to think outside of the box. We are proud of this unique video treatment and are honored to have won the gold award!
Check out the module that started it all here. Congratulations to the Reflection Software and NADA teams on this amazing achievement!
---
A little bit about the Excellence Awards Program from Brandon Hall Group: "Brandon Hall Group Excellence Awards Program has recognized leading organizations for the past twenty-plus years for the latest trends in Human Capital Management," said Rachel Cooke, Brandon Hall Group COO and leader of the HCM Excellence Awards Program. "The initiatives that were honored are not only innovative but fit the unique needs of the business and create truly remarkable success stories." Award entries were evaluated by a panel of veteran, independent senior industry experts, Brandon Hall Group analysts and executives based upon the following criteria: fit the need, design of the program, functionality, innovation and overall measurable benefits.