Part of what makes me excited to be in the L&D field is the constantly evolving ways learning experiences are being transformed and reimagined. We had the amazing opportunity to support our partner the National Academy of Sports Medicine (NASM) as they worked to integrate something really special into their newest Certified Wellness Coach course – PLAY! Adults benefit from using play as a method for learning just as much as kids do, some of the most critical retention happens when you allow your learners to let loose!
Join me as I interview Senior Instructional Designer Jeri Dow from NASM about how our teams worked together to develop a custom card game that supports new Wellness Coaches - called "Self-Elficacy"!
Q: The wondrous and magical Jeri Dow, thank you for joining us today to chat about this incredible card game. Tell me about yourself and your role at NASM!
Hi! I'm so glad to get another chance to chat with you about this project! I'm Jeri (she/her), and I'm a Sr. Instructional Designer here for the National Academy of Sports Medicine (NASM), a business under Ascend Learning. I've been in instructional design for about 13 years, previously in higher education. I've been with NASM for just over 7 years.
My job here at NASM is to ensure our learners are receiving high quality educational courses related to fitness, health, and wellness to educate people in a career in fitness and wellness or just people who are interested in improving or maintaining their own wellness. I'm a lifelong learner, and I am just REALLY excited about learning in general.
Q: Can you tell me about the Certified Wellness Coach Certification that the game aligns to - what is its purpose and how is it currently accessed by learners?
Our Certified Wellness Coach certification was created out of a recognition that nutrition and fitness is only a tiny part of how people work to transform their personal well-being. We're seeing a shift in our culture that recognizes that well-being encompasses so much more than just physical activity and this concept of "eating healthy." Instead, our well-being is about how we approach the world, how we care for ourselves, even in difficult ways, to bring our best to ourselves and others.
So this certification was built to reach beyond our traditional sphere of influence into helping people who want to coach others learn about movement beyond traditional exercise; implement healthy dietary patterns that are more intuitive and holistic rather than counting calories or macros; and discover ways to manage stress and our social interactions in ways that enrich our lives. We also have a very robust, evidence-based section on coaching and behavior change that centers on the client and holds them capable and able to make the changes they want to make, with the coach as guide.
Currently, this course is accessed through our online learning platform, where learners get access to a digital text embedded with a ton of helpful infographics, videos, and audio. We're also working to release a business course, a simulation, and these RPG cards soon to enhance their learning.
Q: Where did you get the idea to build an elf-themed role-playing card game to go along with the CWC course?
While we have other simulations and learning resources, we recognized that there's still a limitation in the human element because people are unpredictable! Their stories aren't always typical, and their experiences are part of that whole picture. We wanted to augment that simulation experience with something focused more on the discomfort people feel when they begin coaching.
Practice is the best way to get someone to be comfortable with the unpredictability and changing dynamics of a real, human person sitting in front of you. But, we all recognized that role playing is …awkward and forced. No one plays authentically because a) it's not fun and b) it's so awkward you just want it to be over with.
So, we began to think about, what helps us separate from the forced characterization in role playing? How can we make this fun, replayable, and focused on the key coaching skills? Fiction is a great way to get people to stop focusing on making things accurate, and instead focus on the tools and methods they're supposed to be practicing. We purposely have a mix of more real-life client characters and more fantastical characters to help the players get away from thinking "what's the right thing to say" and into "what is the right thing for this person sitting in front of me"?
As for the elf-theme – well, sometimes a pun gets started and then it takes on a life of its own! We wanted something that gave a nod to a genre of game that people love, but also was just plain fun and interesting!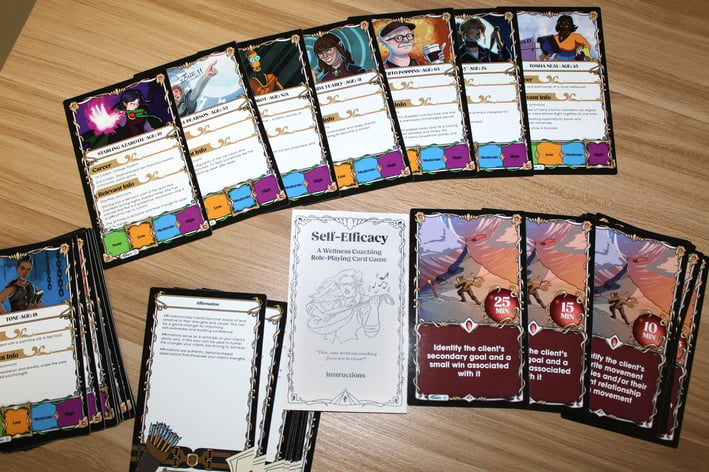 Q: Can you explain an overview of the game mechanics and how it's played?
I'd love to! So, the game is played solo or with two players. As a solo player, you'll consider various objectives to practice how you might prepare for a meeting with a random client you've pulled from that deck.
The two-player is what you might think of as the more traditional role-playing game. Player one, the coach, receives an objective or a goal to work on with their client, Player two. Player two grabs a character card and assumes the role of that character, keeping certain aspects away from the coach until the coach probes to reach their objective.
The objectives are of various lengths to allow for multiple playing sessions or a longer session – whatever time allows. We also included a toolbelt set of cards to remind our players what tools they can use to reach their objective.
Q: How do you think the card game will benefit learners that are going through or have already gone through the CWC course?
We're so excited to roll this out, because primarily I think it will alleviate some nerves for our new coaches. Many of them may feel like they're not ready to work with someone, so this gives them room to practice in a way that is fun and risk-free. Our hope is that they'll be able to disconnect from always getting things right and focus on their skills and helping the client. Once you've dealt with some of the more fantastical clients, suddenly the day to day might seem a little more manageable. The risk feels less weighty.
Q: Some of the client characters seem oddly familiar…
Yes! Some of this client characters might seem familiar, while some feel like just regular people. We did this to ensure that our coaches can practice seeing that, no matter how wild the stories, problems, and goals might be, the guidance works the same. Their role as coach is to work in partnership with their client. You might see a vaguely familiar demon hunter, a highly logical crewmate, and a nod to a stray superhero. There may even be some only the nerds will recognize!
Our hope is by including nods to familiar characters and pop culture references, we're embedding some fun but also helping to fill the gaps, so it won't be difficult to assume that role for the player who is the client. If a character is not familiar, then there's an added benefit as the client must fill in the gaps themselves, helping the gameplay be more dynamic and surprising the next time they play.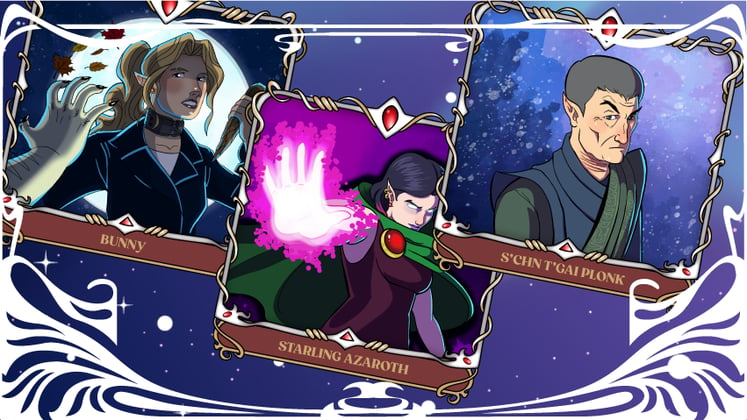 Q: Any advice for those who might want to develop something like this to supplement their own learning experiences?
It can be so easy to fall into old patterns, but the way I see it, if I have fun making it, at least one person will have fun using it and learn more from it than they would have otherwise. So often, we're afraid to take risks and be adventurous because it falls outside the box of what we normally do. Especially in adult learning, we're afraid to make the learner feel like we're treating them like a child. But all of us like to play – and play is still a great method for learning even when you're an adult! I just think we should all play more. If we fail, we still learned something new!
Also, and no one told me to say this or bribed me, finding a group like Reflection to work with is key. Having a partner to help create this and bring it to life was invaluable. I constantly appreciate the creativity, excitement, and thoughtfulness the team at Reflection brings to our work together!
---
Thank you for that in-depth dive into the thought process behind Self-Elficacy, Jeri! And another huge thank you to everyone at NASM for allowing us to lend our imagination to this project. It was fun for us and we hope learners have fun with it as well!
Do you have a project you're working on that "out-of-the-box" like this? How are you integrating PLAY into your learning experiences? Let us know in the comments!