Being a new instructional designer is exciting, but with so much to learn, some days may feel a little more like fright night. There are many different "tricks" that can stump you, but luckily, we have a few "treats" below that can help guide you if you're new to Instructional Design or eLearning.



1. Templates
Trick: Writing into a storyboard can be scaaaary. When I first started off as an instructional designer, I was working within specific document templates that were created to organize pages within an eLearning. But translating my writing to these storyboards felt unnatural – not intuitive. I was used to more creative, free-form writing so the templates felt rigid.
Treat: Use the resources available to you! The more you do, the more you learn – but as a new instructional designer, you usually have to jump right in without much understanding or experience – which can be frightening! However, you have resources to help you. Look at past scripts or similar projects for inspiration. Every idea can be developed into a creative template. And hey – having conversations with a developer also makes things like 'templates' seem less scary!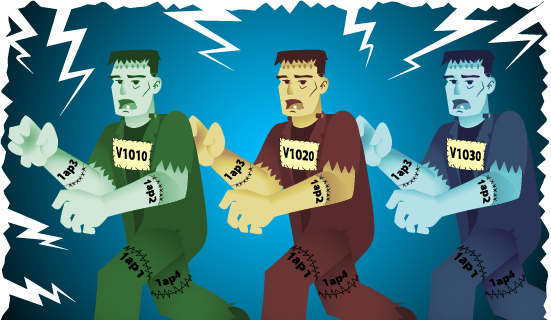 2. Page IDs and Versions
Trick: Getting lost in the graveyard of version numbers. Once I had more confidence using and creating my own design templates, I ran into yet ANOTHER trick. Page ID's, software versions, and template organization – oh my! I saw alphanumeric identifiers and knew it was some sort of organizational method. When it came to building out templates for branching courses, things got even spookier. You may have also run into some sort of sequencing structure that can seem monstrous and really impact the project if not used properly.
Treat: Learn the method behind the madness. Just as important as the content itself is how the content will flow. Once again, with a little practice and conversation, page IDs and versions became a little less scary for me. I talked with my team and we broke down the sequencing step by step. Learning how version numbers change was simplified for me by drawing the process out on a white board to visually show how the version number changed throughout the course of the project life cycle – and when. So, collaborate with your teams to come up with a method that will make sense for you!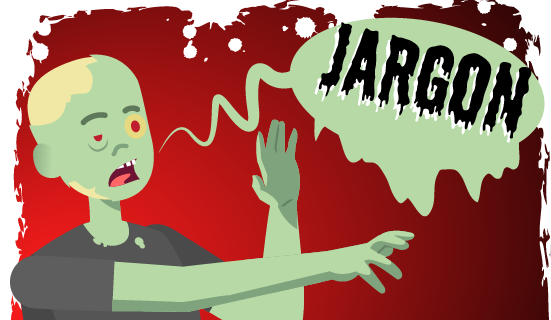 3. Jargon
Trick: "The ID works with the SME to turn the HLO into a DDD." S-M… wait who?? As an instructional designer (or "ID") and in eLearning, there are SO. MANY. phrases and acronyms that pop-up. New phrases such as Bloom's Taxonomy, ADDIE, and "SME." They seemed like important things to know, but are they referencing a person? A place? A latte order? As an instructional designer, you take part in A LOT of conversations and it's important to know who or what you're talking about!
Treat: Good old-fashioned research! Often times, team members can provide quick answers when it comes to identifying a base level definition for a specific ID term. To really elevate your understanding, take the time to do some good old research. There is a PLETHORA of resourceful online articles and webinars that provide an in-depth understanding of various eLearning phrases. Not only will this educate you, but it can even provide you with new information and perspectives to take to your team.


Beginning your career as an instructional designer may be tricky, but a well-thought-out and immersive eLearning course surely is a rewarding treat. Leave a comment below with the tricks you've experienced in Learning & Development and any treats you've found along the way!