While there are many teams that help support an organization in its DEI initiatives, Instructional Designers are in a unique position to communicate and educate the values and culture that an organization is trying to embrace.
From onboarding and upskilling to compliance training and leadership development, the ID's choices of format, language, style, media and more greatly impact how a learner will receive, understand, retain, and embrace the message. This is true whether the learner is an entry-level associate, C-Suite executive or somewhere in-between.
Today, we are going to touch on ways Instructional Designers are paving the way for DEI initiatives that you can incorporate into your organization too!
The Importance of DEI in the Workplace
What is workplace DEI? It's become an umbrella term that represents an organization's commitment to supporting different groups of individuals, including people of different races, ethnicities, religions, abilities, genders, and sexual orientations. It generally includes policies and strategies designed to make people of various backgrounds feel welcome and ensure they have support to perform to their fullest abilities; these must be engrained in day-to-day processes to become fully a part of a workplace culture.
When carried out successfully, DEI supports a workplace where everyone feels valued, respected, and comfortable being themselves.
Employees who feel valued by their employers are also more likely to stay and perform better, while an organization reaps numerous benefits including a boost to their bottom line and better workplace culture.
Inclusive Design Ensures Everyone Benefits
When Instructional Designers create learning materials and opportunities that are inclusive, equitable, and diverse, they help ensure that everyone in the organization can benefit and fully engage in sharing their perspectives.
Integrating DEI into instructional design provides plenty of other benefits including:
Improved learning outcomes

Enhanced engagement

Improved retention

Increased participation, creativity, and innovation

Enhanced cultural competence



Start by Developing an Inclusive Strategy
An inclusive strategy is one that can be applied to every learning project to serve as DEI "checks and balances" and as a guide to best practices. A one-size-fits-all strategy, however, will not work. Rather, it must be a flexible framework that stays aligned with the organization's goals, brand, and mission AND allows for growth.
Having a strategy with guidelines can help you be mindful of your own unconscious biases, which can inadvertently favor or promote certain perspectives or reference points in your training and potentially alienate other experiences. Think of your strategy as a way to step outside your own shoes and include diverse perspectives and narratives to help bolster your training!
From Incorporating Best Practices …
Best practices for building DEI into workplace learning require the ID to:
Ask first! Before you develop training, take the time to get a diversity of perspectives on previous training experiences. Ask, "What were the biggest obstacles to you successfully integrating what you learned into our culture?" "Did you encounter content that didn't make sense or functionality that could have worked better?"

Conduct a needs assessment

to determine your learners' needs, learning styles, backgrounds, and characteristics. Consider creating Learner Personas as part of this assessment to assist you in your design process.
Consider creating multiple formats for better access including eLearning, instructor-led, or printed guides. This can help address your learners' wide variety of experiences, language fluency, learning styles and levels of education and provide them with the best learning experience.
Support multiple languages when possible. Consider providing training materials in multiple languages. If this is not possible, support learners by breaking up learning into smaller chunks and working with teams to provide content ahead of training. This gives them time to read the material at their own pace, review and reference content if needed, and call out areas they may need support with.

Think of your bandwidth

. Keep in mind that not everyone has access to the same level of high-speed internet or technology that can support streaming or heavy downloads; understanding this at the front-end allows you to create the best learning experience for your audience. The Learning Guild has great ideas and resources for helping you build low-bandwidth, high-quality learning alternatives.
Pay attention to optics. Are your photos, videos, graphics, and other media representative of the real world? Do they include people of all colors, ethnicities, ages, abilities, and the like? If employees do not see themselves reflected in the material, they will be less inclined to connect to the content.
… to a More Formalized Strategy
Your DEI learning strategy can also include formal frameworks, such as The INCLUSIVE ADDIE Model, which builds on the popular ADDIE INSTRUCTIONAL DESIGN (ID) Method. Developed in the 1970s to provide an effective framework for instructional design, ADDIE includes the following steps:
Analyze
Design
Develop
Implement
Evaluate
ADDIE was created to support learning initiatives by the U.S. armed forces to support its military training, but soon demonstrated its success of helping workplace learners connect the dots for every stage of workplace learning, and for providing management with a robust method for making large-scale organizational change.
The INCLUSIVE ADDIE Method is an extension of the original created to address the rapidly changing student diversity in upper education, but which also lends itself well to workplace instructional design that focuses on ensuring inclusivity and accessibility.
It features nine substages with inclusive practices: introspection, needs, context, lesson, understanding, supporting structures, implementation values, and evolution, as shown here.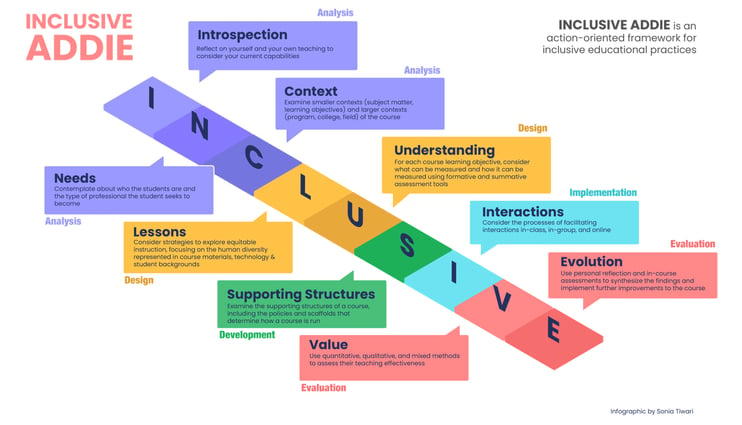 Infographic by Sonia Tiwari, Penn State University, 2022. Used with permission.
You can explore The INCLUSIVE ADDIE Method in greater detail with descriptions, examples, step-by-step instructions, and even a free workbook to help you get started.
Review and adjust – these are a must!
Whether you are just starting to incorporate DEI measures into your training or are well on your way and already seeing its benefits, a periodic review of the practices is always a good idea to make sure they're effective, current, and aligned with your organizational goals. Creating an inclusive culture is not a linear process – there will be stops and starts and adjustments unique to your workplace.
No matter how you get there – just get there!
Instructional Designers and L&D teams play pivotal roles in creating, maintaining, and growing a DEI culture for a workplace where everyone feels included, heard, recognized, and appreciated. While there is no one strategy to get there, a lasting, impactful DEI culture will be one embraced by the organization as a whole.
Ready to get started? We can help! Our innovative content solutions support DEI efforts that can be adjusted to your one-of-a-kind needs.