And now for everybody's favorite subject, employee documentation! Ok, we're no fools (about this anyway). We know that employee documentation can have a negative connotation. However, we also know how necessary it is to protect your business and your associates.
With the newest feature of our Learning & Development Platform, Cognition, our goal was to shift the employee discipline conversation to—well, actual conversations that center on growth, as well as the necessary tracking of incidents and actions.
Hopefully, giving you some insight into our thought process around creating the new Progressive Development feature will inspire you to revisit your own process with a renewed perspective.


Shift from Discipline to Development
When something needs to be documented, whether it be a safety violation or a missed shift, it's important to create a record of the incident but it's equally important that a discussion be had about what happened. But oftentimes, these conversations are difficult or uncomfortable, especially for new managers, which can lead to the discussion being put off.
There can also be a punitive feeling around the proceedings and both sides find it very challenging to be objective and set aside any bias. It can also be difficult for supervisors to create consistency from one situation and associate to the next.
Our goal was to solve those issues. We also decided to go one step further by giving these conversations the opportunity to focus on progress and development, rather than carry the perception of punishment. Hence…we took the traditional model of progressive discipline and transformed it into Progressive Development.
So how does Progressive Development work? It is a methodical system, that goes step-by-step and gives structure around when, why and how these conversations take place.


Keep the Process Fair and Transparent
When managers go to do their documentation, it's important to provide guidance and make it as easy for them to fill out as possible. This is a time when all you want is just the facts about what happened, not a lengthy exposition that rivals a small novella. With Progressive Development, we create customizable templates that provide managers with specific fields to fill in. This helps managers provide details in an unbiased and objective way. Using templates like this also keeps the documentation consistent, fair, and transparent and to the point. The templates included in the platform also offer a chance to make clear objective language part of their managerial muscle memory.
For the associate being written up, these forms shouldn't be a secret! Once a document has been finalized and the manager has had the opportunity to discuss the incident with the associate, they can access their own records. This allows the associate full visibility into their own records and lets them know the exact action steps they need to take to improve or who to talk to about any questions they may have.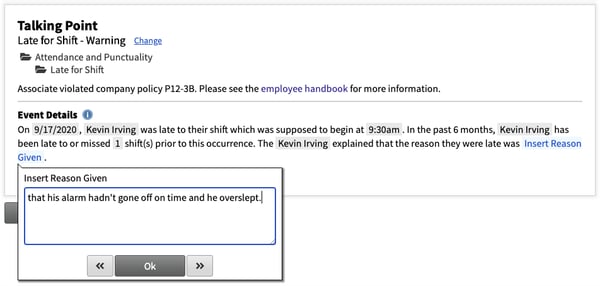 Support Your Managers
Times of challenge create opportune moments to support your managers with resources and support. Putting quick links to the employee handbook or soft skills tips on how to handle disciplinary conversations in your templates are another way to give your managers that just-in-time support they need.
Sometimes, it's helpful to go even further with an extra level of review to ensure not only that your documentation is filled out correctly, but that your managers feel confident and prepared to have these conversations. In Cognition, we added the ability to automatically send certain infractions to specialized reviewer groups who can provide managers with feedback before they meet with the associate.


Create Opportunity through Accountability
Accountability is, of course, an important factor when it comes to documenting incidents. There needs to be a way to make sure crucial conversations actually happen. To that end, we added a feature that allows the associate and the manager to sign off at the end of the workflow cycle once both parties have met to go over the documentation. You can clearly see a side by side sign off of both parties, to make sure that everyone is literally on the same page.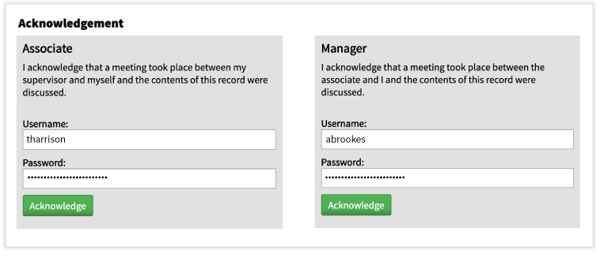 Recognize the Good Things
Something else that we felt was important is to offer the chance to document the good stuff too! Being able to reward outstanding service or situations where an associate has gone above and beyond can go a long way to building employee morale and loyalty. Growth doesn't just come out of conflict; it also comes from building on positive reinforcement. So, don't be stingy with those shout outs!


Promote Ongoing Development
Now, why did we add this feature to Cognition and what is the upside of adding it to your learning system? Well, for us, it's part of Cognition's evolution from its humble beginnings as a simple little LMS, to a robust full-on learning and development platform. Our philosophy has always been to give employees one central platform for everything from on-boarding to continuous learning, goal setting and performance development, and even talent succession and career growth. We saw the connective threads that could bring it all together and allow each segment to enhance and strengthen the others.
By putting Progressive Development into the place where your employees are doing their training and learning, it associates the process with growth. Adding in Progressive Development makes sense because Cognition is a place where associates and supervisors alike can learn, be mentored, and grow; which is what the employee documentation process should really be about.
Need help shifting your organizations thinking about accountability, employee documentation and encouraging growth conversations? We'd love to help you out.