COVID-19 rapidly disrupted our lives and economies. It's impacted numerous facets of the employee experience, in part by forcing businesses to make drastic changes to the workplace, including where we work, how we communicate and how we manage others.
So does it surprise you to hear that for those employed, engagement levels have been on the rise across the country?
According to research compiled by Quantum Workplace, typical engagement has changed only 1-2 percentage points year-over-year for more than a decade. In 2020, however, employee engagement had meaningful growth of nearly 11% compared to engagement levels during the same time period the year prior. That's a huge increase. And worth consideration through a learning and development lens.


Employee Engagement Defined
Employee engagement is the emotional commitment an employee has to their organization and their fellow employees, and its vision and goals. It's not their level of happiness but rather whether they are fulfilled in their role and connected to the company's purpose.
Most employers are meeting the needs of employees in numerous areas related to engagement, including flexibility; reimagining the employee experience where work and home life happens in the same location, socialization and communication and acting with compassion, particularly in light of the new challenges we are all facing.


The Win/Win
But what about developing talent? It's reasonable to conclude that when employees are better engaged with their employers, they are more likely to be receptive to and engaged with training offered by their employer as well. As a result, an opportunity exists to further solidify employee loyalty by making learning a top priority and not easing up on training or providing resources for self-improvement simply because of the challenges being faced at this time.
And here's where the win/win comes in. Just as companies want top notch employees who are increasing and growing their skill sets, communication skills and productivity levels, now more than ever, employees need development too… but for reasons other than just promotions and pay increases. It links to many of the same factors that drive employee engagement.


Stability, Trust and Purpose
There are 3 areas, amongst others, that are bolstered by learning and development initiatives and are of the utmost importance in today's climate: stability, trust and purpose.
Stability encompasses job security, financial endurance and planning for the future. Employees presented with a career path and the goals to get there feel more stability in their role and in maintaining the needs of their life.
Employees need to trust the brand, values and mission of their company. Training can communicate these items, strengthen loyalty and be a uniting factor. Likewise, trust goes both ways and employees need to feel valued. The investment in their growth and training by the company they trust contributes to this feeling.
Individual purpose and a sense of normalcy can ease anxiety and channel stress into positive behaviors, impacting all aspects of work and life. A sense of purpose can help employees navigate uncertainty and change. Training helps fulfill this by supporting employees in their role and place within the company and ensuring their efforts are aligned with company goals and defined values.


Purposeful Action
Investing in employees when engagement is high and connecting people to something bigger than themselves will encourage them to contribute in meaningful ways, trust in your brand and ideally feel a greater sense of stability in uncertain times.
Maybe it's time to launch a back-burner initiative. Or bring to life the idea that's been percolating in leadership's minds. Strike while the iron is hot to benefit the company AND your employee's well-being! That's a win for everyone.
---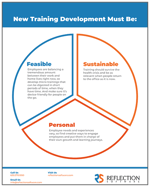 Looking for a helpful guide as you start those new training initiatives? Download this infographic on best practices for new training development.