Feeling a little uninspired lately? Is your learner engagement tapering off? Online training has become even more essential to employee development plans. But taking your training virtual is so much more than self-paced PowerPoints or recorded webinars. While there's a time and place for these formats, if this is all your online training catalogue consists of; it may be time to spice up your eLearning!
It can be a challenge to develop creative and effective learning experiences. A great way to re-invigorate your training initiatives is to hold a brainstorming session with your team to come up with ideas, prompts, or designs. To get you started, check out these prompts our team has used to get the creative juices flowing! We hope they give you a burst of inspiration and open up new opportunities for your learners.
1. A Day in the Life:
What does a day in the life look like for your learner? Show them how they can use new skills in their daily routines through a first-person perspective.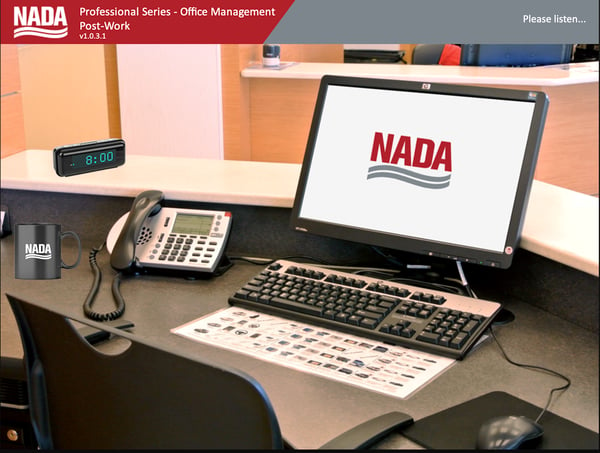 2. Virtual Tour:
Create a virtual tour that mimics how you might physically show your learner around their new workstation, job site, or office.
3. Simulate Your Process:
Make your interactives more immersive. Have the learner click or drag objects to simulate what they would be doing in real life.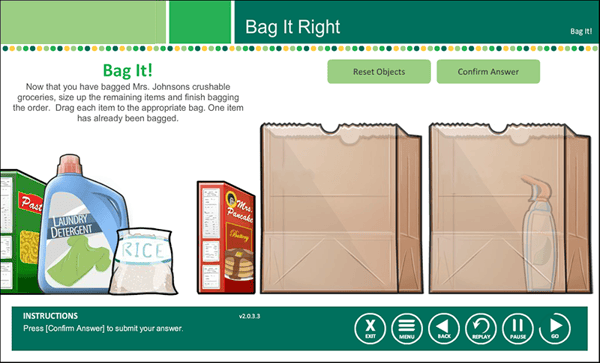 4. Shine a Spotlight:
It's very common to have an employee who is seen as an expert in something specific. Why not take a quick video of them showcasing what they do best, and use that as training for others?
5. Real-life Scenario:
Script a real-life scenario that shows your process in action, whether it be assisting a customer or interviewing a new employee. Giving a concrete example provides learners with both a framework to go by and the engagement of storytelling.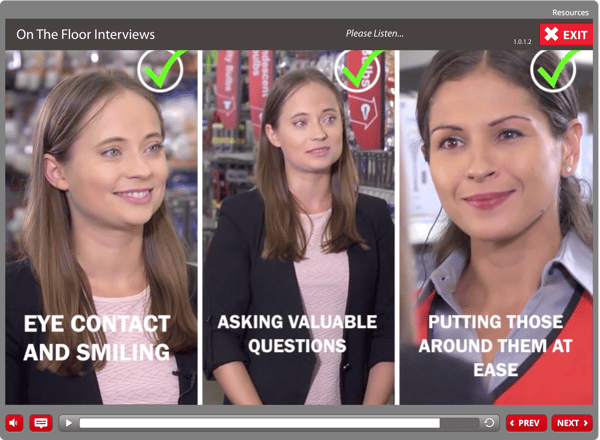 6. Tell a Story:
Make your training about a specific character. Instead of telling the learner what they might experience in the workplace, show them through the character's experiences.
7. Learn at Your Own Pace:
Instead of making a training that the user has to sit through start to finish, segment your training into milestones that the learner can come back to.
8. iSpy:
Ask learners to examine an image and use hidden clickspots to find areas that illustrate an incorrect aspect of the scene.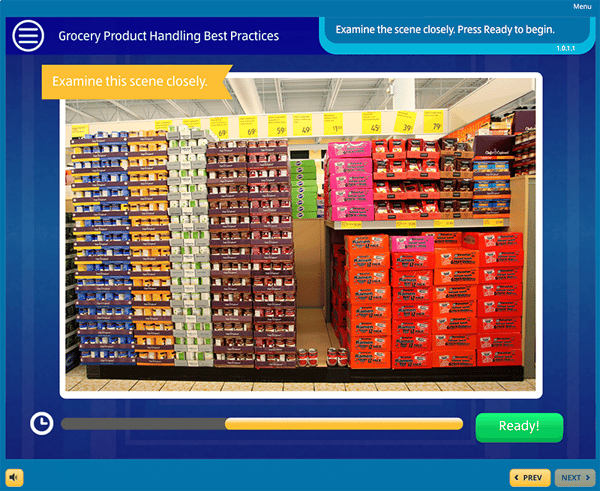 9. Puzzle Maker:
Use drag and drops to create puzzles to teach sequences, processes, vocab, and more. Award points for speed and accuracy!
10. Fill in the Blank/Mad Libs:
Encourage learners to think about their responses by asking them to fill in a question (or several) and then providing them with an example or best response. Take it a step further by leaving several blanks for a Mad Libs style interaction or making a drag and drop activity out of it.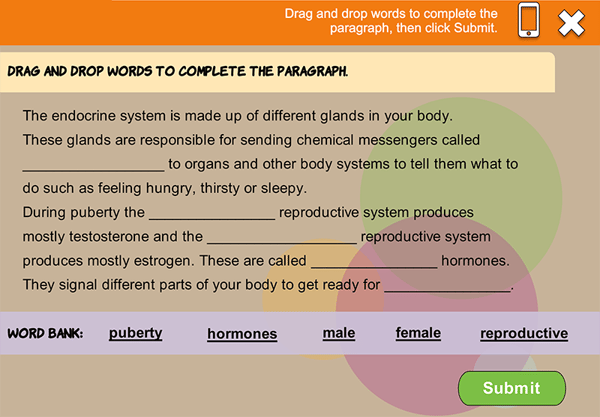 11. Animated Backgrounds:
Add visual interest to static content pages by incorporating animated backgrounds. This adds movement and excitement to the page while still leaving room for lots of information.
12. Word Cloud:
Up the engagement in your pages by adding in a word cloud, fading in different words and phrases related to the topic. Add interactivity by allowing learners to click on each word for more information.
13. Keep Score:
Show the learner how well they're doing via points or stars. Incentivize them to come back and try again if they miss anything.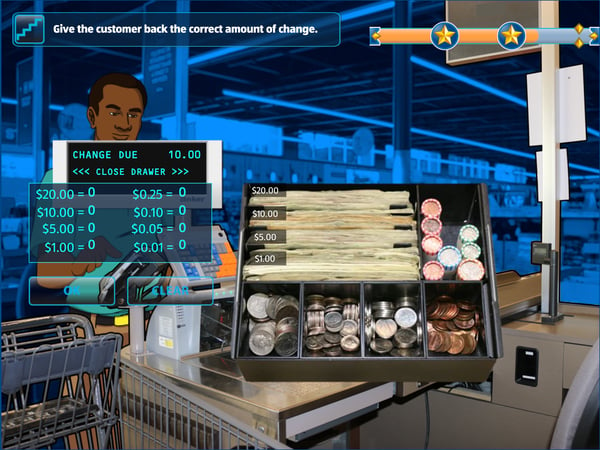 14. Add Some Competition:
Make a quiz that shows how well the learner did compared to their peers. Keep track of the highest scorers and give a shout-out or recognition at certain intervals.
15. Timed Activity:
Add an extra element of pressure to activities by adding in a timer. This works well for examples that would require quick thinking, such as high-pressure situations in the medical field or the time needed to efficiently serve each customer as a cashier.
16. Instructional Comics:
Using a comic book or illustrated style for your eLearning provides visual interest that stands out and provides unique opportunities for interactive storytelling.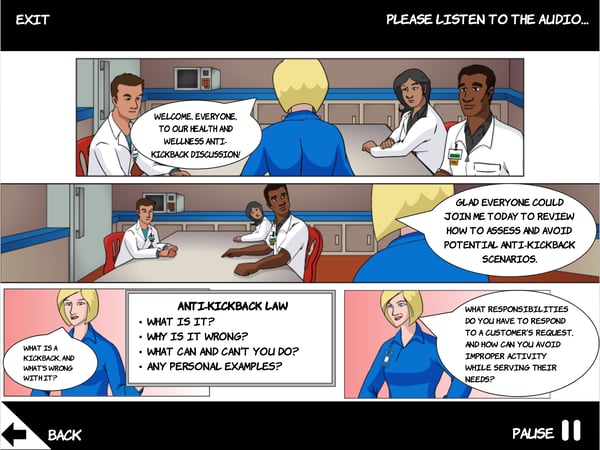 17. Mobile Games:
These days, lots of people pass time playing games on their mobile devices. What games are you currently playing? How can you use the concepts of these games to lift your training and bring it to life?
18. Social Media:
How can you pull from what you see in popular social media platforms to make your training more engaging? Maybe you are inspired by the simplicity of viral videos, or getting a message across in 140 characters or less.
19. TV Game Shows:
Is there a particular game show that you really enjoy? What parts of it are fun and engaging to you? How can it inspire your training?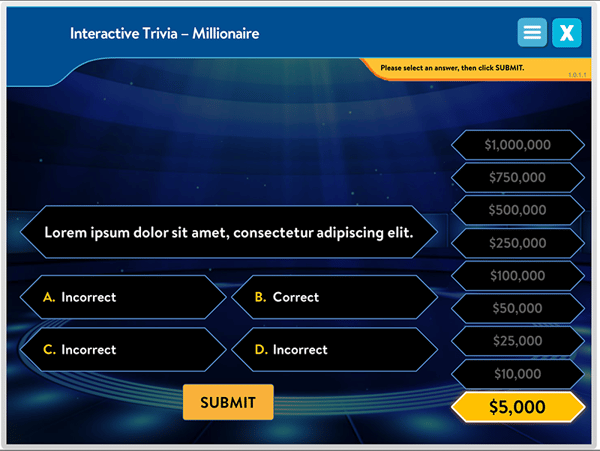 20. Additional Resources:
Try to find outside media that illustrates a concept you are trying to teach. A clip from a movie or show can be an entertaining way to make a point (just make sure to check out these tips to avoid any copyright issues).
Looking for even more inspiration? Check out our portfolio for some of our favorite training courses that we've developed over the years.
Still feeling stuck? Our blog on what to do when you're hitting a creative wall can help with that!